Merchandising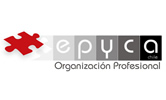 We have developed this business unit to place at the disposal of our clients the best way to create a visual impact in order to promote and to position your brand on the market.
At Epyca-Chile, we can provide:
- A work team with expert professionals to support the development of your idea.
- Advice on the best product to position your brand and capture your Premium clients.
- We find and acquire the best available products within the national or International markets. What is shown in our web page is only a display of items that are usually requested, but if you need something different just tell us your requirements and we will get it, and will quote it for you, no matter how special your idea can be.
- Budget Management with suppliers, that you will be able to verify, as we rely on the most competitive values on the market.
- A complete marketing chain:
Budget of the product.
Incorporation of your Company's image or logo in the product.
Products checked 100% (quality control).
- We rely on an economic support that allows us to get up to 5 % discount, depending on the invoicing volume.
- We guarantee timely delivery as stipulated in the contracts.
We invite you to visit www.epycaorganizacion.com/catalogo_en.html, and send us your requirement by e-mail informing us the corresponding codes and quantity of items you are interested in, and we will send you our quotation in electronic way. (There is a minimum of units of purchase and it will depend on the requested product)